Posted:
2022-09-14
At:
5:30 am
:

As with last year, I spent most of the year writing and programing, trying to stay busy, being creative.
In contrast, I didn't continue writing the
two books I began writing last year
. They're just about the same as they were in 2021. They have a beginning middle and end, about 25K words each, yet, plenty of words still need writing.
I did write many blog posts throughout the year, about twenty for Dusty Loft, eight at GeorgeFarina.net and two at Medium.
Keeping with the same system I used last year, I kept them unpublished until today. I find many more errors, make the posts much better if I edit them over a longer period of time.
The posts at George Farina.net are listed below. Four are excerpts from chapters of Far From Perfect:
Two are posts created from images within the previous GeorgeFarina.net gallery. I combined the websites gallery with the blog gallery, then turned the images from the websites gallery into blog posts:
The blog posts at Medium are titled:
I also posted numerous blog posts at the
Dusty Loft
blog, to many to list individually, blog posts including fictional stories, episode reviews, creatively written blog posts, song lyrics, among others.
I began writing two new books in 2022, both fiction. One of them I got much further with than the other, a book I began writing as a comic book series, having written a few issues during previous years.
I included past issues as part of the book, then added to them, turning the issues into much longer stories within the book.
The other book is written somewhat similarly, not in the sense of a fictional comic character, in the sense, it began as different thoughts, stories I wrote, than combined to form a book.
I spent many hours programing as well, working with the Web Guide, updating my personal website.
Two new category boxes have been added to the Web Guide. A category box showing
all the URL's with just the URL and title
in a dual format layout. And a category box showing the
dates websites were added
to the Web Guide.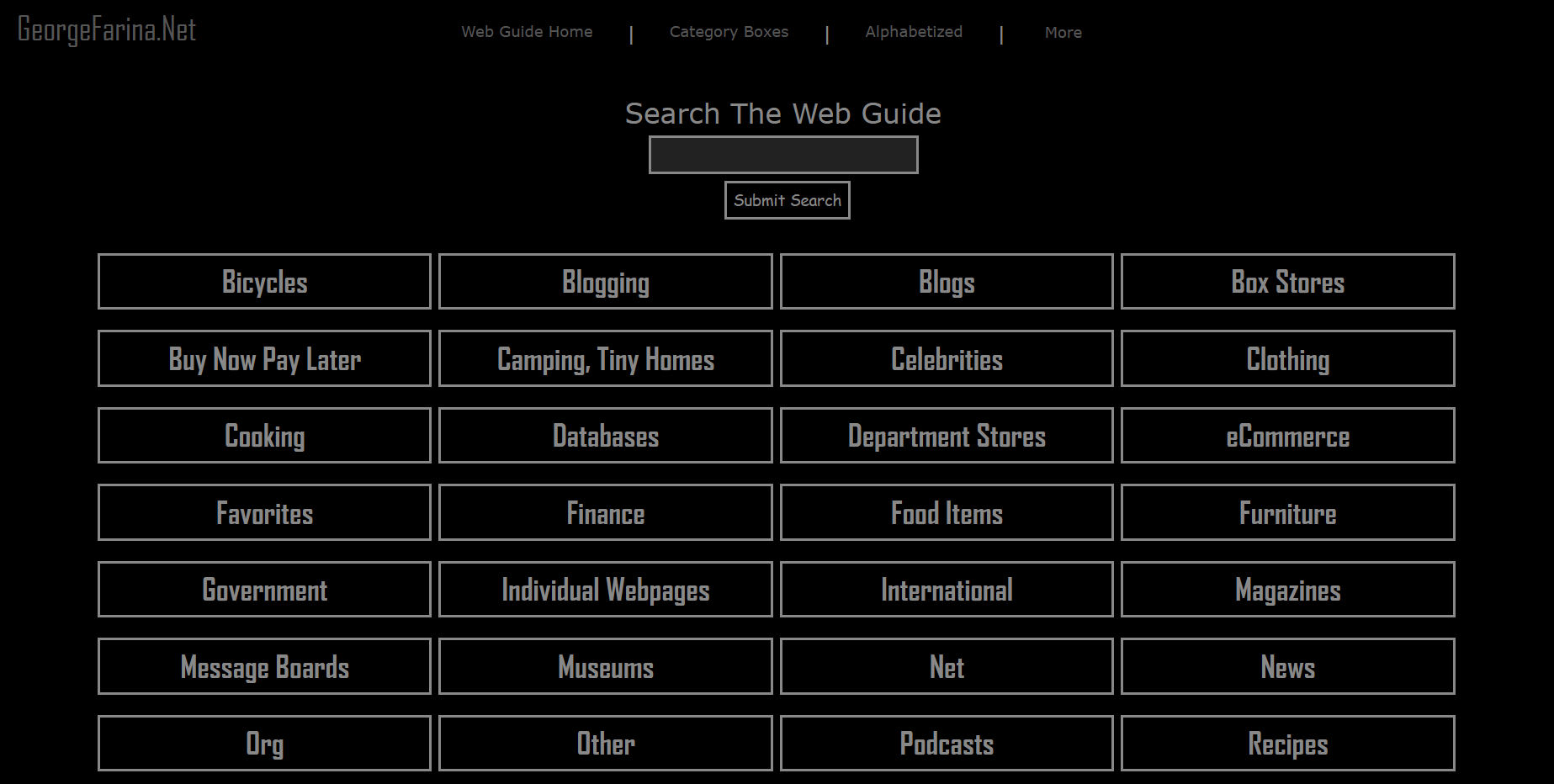 Screen Image Of The Web Guide Category Boxes With The Grey Template
I also added a
grey template to the Web Guide
. To choose between the Default Template and the Grey Template, click on "More" via the upper menu after visiting the Web Guide.